People with disabilities in construction
An important action has been the development of policy guidance on accessibility standards for the disabled in construction. Policymakers, implementers and major actors in development have failed to appreciate disabled people as a unique community with distinctive issues and specific needs that requires special and specific interventions.
In a 2004 joint study undertaken by the World Bank and Yale University, findings reveal that a cycle of disability and poverty exists, where the poor are more likely to become disabled due to poor nutrition, lack of medical care, dangerous housing, injuries on the job and violence, while disabled people are resigned to being the poorest among the poor. Additionally, the study finds that disabled people are at increased risk of acquiring HIV/Aids due to their susceptibility to physical abuse, and a lack of intervention and appropriate preventative outreach.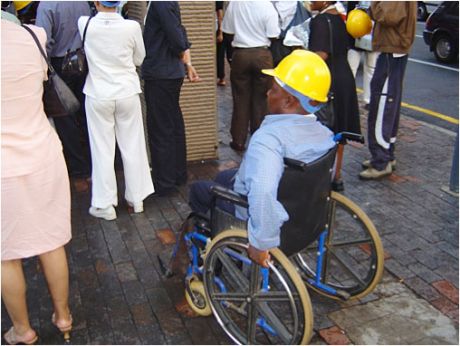 The programmes referred to in this section of the Strategic Agenda for Public Works1 in Gauteng primarily refer to how to incorporate the identified target group into the operational aspects of the public infrastructure service delivery process. A second type of initiative relates to identified intervention strategies and programmes for persons with disabilities. An example of this is making all Gauteng's buildings accessible to persons with disabilities.
Some of the programmes that were fleshed out included:
Incubator industries for people who require sheltered employment. This initiative focuses on both persons with physical and mental disabilities. Within the context of the construction industry, it is difficult to securely and sustainably involve persons with disabilities. With the assistance of incubator industries that provide a controlled environment, specific products and services can be provided that will complement and support the construction industry.
Implementation of onsite construction contact centres (CCCs) across Gauteng that provide project management and financial management resources for emerging contractors and professional service providers. All the CCCs were to be fully accessible to persons with disabilities. There was also a long-term opportunity for employment and empowerment of the disabled in the CCCs.
Learnership programmes that were either integrated into the education environment or that have a relationship with private sector companies.
The viability and growth of SMMEs was supported through preferential procurement, and also through the provision of support to these entities by agencies and mechanisms such as the Gauteng Propeller Agency.
HIV/Aids was addressed primarily on an internal level through:
- Managing disclosures
- Training supervisors and managers on legal aspects of managing HIV/Aids in the workplace
- Information session on the rights of employees living with HIV
- Benchmarking with the private sector on an ongoing basis
- Awareness programmes with stakeholders, e.g. truck and taxi drivers
Transformation of departmental acquisitions committees and supply chain management to incorporate all BBBEE requirements across the public works branch, especially in relation to consultants, contractors and professional service providers.
In general, and especially for those who are contractors and artisans, there was a difficulty for persons with disabilities to get involved due to the extreme physical nature of the work and the added safety and security issues. The focus for public works service delivery was therefore in ensuring improved access, improved standards and increased availability to public facilities for persons with disabilities.
---
1. This discussion is an extract from the documents titled "Gauteng Infrastructure Renewal and Investment Plan" that was still at "work in progress" stage by the time I left the department.